iMobile ICICI mobile app is the official mobile banking application of ICICI Bank.
iMobile, the most comprehensive and secure mobile banking application for payments through Unified Payment Interface (UPI), offers over 170 banking services on your mobile.
ICICI Bank has come up with an iMobile app ICICI mobile app for both Android and iOS users. You can install the app from the respective App Store and do banking transactions anytime from anywhere in the world.
Using a mobile banking app is just as easy as using any other app on your smartphone. Sign up and log in to your account on the app to explore the various services available at your fingertips.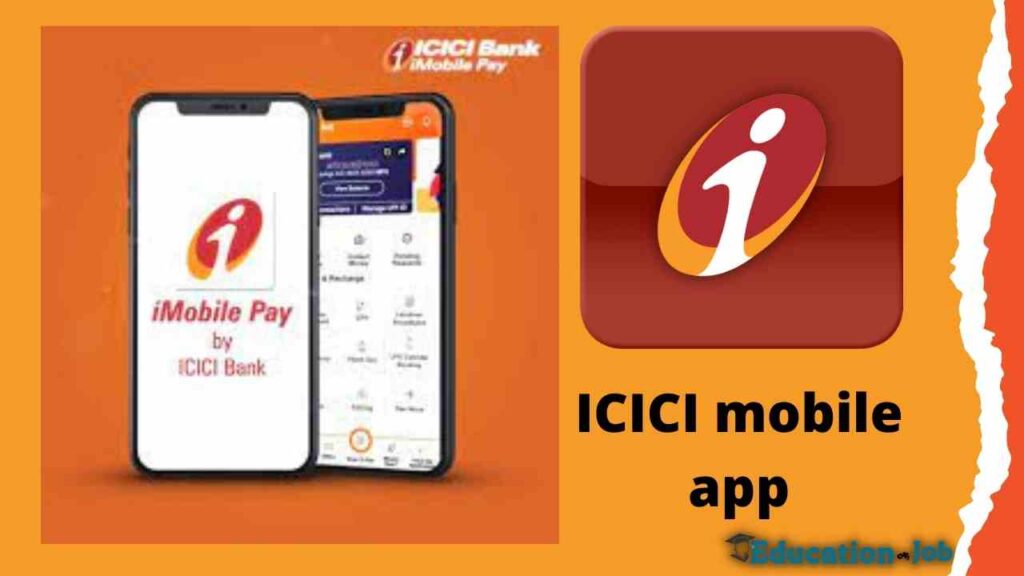 Features of the new iMobile are:
Pay and collect instant payments from anyone using the Unified Payment Interface (UPI Payments). UPI ID is your virtual identity for UPI payments. Use your UPI PIN to perform all UPI transactions.
View and transact all your accounts including Loans, PPF, iWish, Insurance, Cards, Deposit, and ICICI FASTag
Check your bank balance, see the detailed statement and email and view the passbook on your mobile.
How to register for ICICI mobile app banking services | imobile app download
Step 1: Visit the nearest ICICI Bank branch with proof of identity to complete the registration process. You can take with you any documents:
Driver's certificate
PAN card
Ex-soldier card
Senior Citizen Card
Employee Identity Card
Voter ID card
Passport
Step 2: Download and install the iMobile app from Google Play Store or Apple Store.
Step 3: Open the app and select I already have the account
Step 4: If you have a referral code, enter it at the designated location. Otherwise, just click 'Activate Now'.
Step 5: An OTP will be sent to your registered mobile number. Once you receive the SMS, it will be automatically read and verified by the application.
Step 6: Upon successful verification, you will be asked to select the type of authentication/login method. If you choose a PIN containing a 4-digit PIN, you will need to set the PIN by entering it twice and clicking 'Submit'.
Step 7: Now, refer to the back of your ICICI Bank debit card. Enter the numbers printed in the grid against the specified alphabet and click 'Activate'.
Step 8: A pop-up appears saying 'Activation Done'.
Step 9: You can enable fingerprint login by clicking on the 'Enable Fingerprint' button. Just place your finger on your smartphone's fingerprint sensor.
Step 10: Upon successful completion, you will see the following message. This marks the completion of the registration process.
ICICI net banking
ICICI Bank Manage FASTag
Buy FASTag, View FASTag Balance, Recharge FASTag, View FASTag Statements, Manage Multiple FASTag Accounts, Link / D-Link FASTag, and much more Transfer funds to an account or to a contact number or email id Send cash through ICICI Bank's Cardless Cash facility Deal superfast using your favorite feature. By tagging the transaction as a favorite, you can quickly access and complete your transactions, such as mobile recharge or fund transfer.
Kotak 811 Zero Balance Account Opening Instantly | No Opening Change | No Submit Physical Document
Connect with ICICI Bank Phone Banking Officer directly from your mobile phone application Track your deliverables Open FD – Open FDs, RDs, or iWish deposits Get personalized offers on your mobile Access and manage a life insurance policy
Step 1: Log in to your account on iMobile app. You will see the Account Dashboard.
Step 2: Select the' Fund Transfer' option available as the first option under the 'Transact' tab.
Step 3: Enter the name of the borrower or the mobile number of the borrower and the amount to be transferred in the relevant field.
Step 4: To add a new recipient, click 'Add Pay'. Now, select the recipient's bank and enter the requested account number, name, and other details. Click Proceed.
Step 5: Recipient details will be displayed. Check it out and click 'Submit'.
Step 6: Now, select the payer from the list, and enter the amount, and comment. Choose when to start the transfer, ie now or later. Check that the payer's account is correct and click 'Proceed'.
Step 7: The transaction details will be displayed in a pop-up window. Check that everything is OK and click 'Confirm'.
Step 8: You will see a successful message confirming the transfer of funds.
Service at your convenience:
Take advantage of banking services from the comfort of your own home. You can find ATMs, withhold or check the status of your checks, order checkbooks, track your service requests, and more.
Now you can also see the following details on your smartwatch using iWear – ICICI Bank's Android Wear Banking App:
Information about your bank and credit card account
Balance details and last 3 transactions
iWear is a companion application that only works when a user has downloaded Android Wear on their mobile devices.
iWear provides banking and information services so that banking has never been an easy experience before.
For more details about ICICI Bank Mobile Banking visit http://www.icicibank.com/mobile-banking/index.html.
Legal Terms and Conditions: http://www.icicibank.com/terms-condition/terms-and-conditions.page?
Now NRI customers can also use iMobile app, more details about iMobile for NRI here: http://www.icicibank.com/nri-banking/mobile-banking/imobile.page?
For any feedback, questions, or problems regarding the iMobile application please write to mobileapps@icicibank.com.
What services are available on ICICI Mobile app – Banking App?
Transfer bank account from home branch to any other branch.
Check account balance and past transactions.
Transfer funds to and from bank accounts.
Open a fixed deposit and recurring deposit account.
Link your insurance policy and manage a demat account.
Pay utility bills using bill presentation, bill pay and fast payment options.
Buy Forex
Find an ATM.
Book movie tickets on BookMyShow.
Check the status of your check and order check book.
Recharge your mobile phone and DTH connection.
Manage accounts anytime, anywhere.
Stay in control with iMobile Pay and get easy access to all financial tools and services anytime, anywhere.
Open Insta Accounts
View and download the statement
Recommended
Search